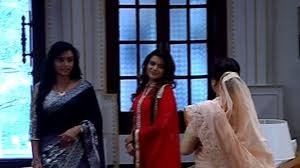 Yeh Rishta Kya Kehlata Hai: Daadi happy as Kartik(Mohsin Khan)-Naksh dances in jagrata
Popular love drama Yeh Rishta Kya Kehlata Hai on Star Plus will witness alot of twist and turns.
Kartik, Naksh and all the boys gathers for Kartik's batchelor party but Daadi ruins their batchelor party.
Daadi keeps the jagrata near the place where Kartik is having his batchelor party so when Daadi sees him she makes hi sit in the jagrata.
Daadi happy as Kartik-Naksh sing songs in jagrata
All the boys sit in the jagrata party and sing jagrata songs.
Then Daadi makes Kartik and Naksh dance in the jagrata forcefully.
Kartik and Naksh mood gets spoiled as their batchelor party get spoiled and turns into jagrata night.
It will be interesting to see that what will Kartik do now.
Stay tuned for the upcoming twist.