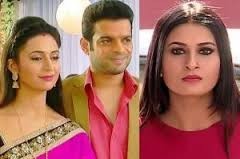 Yeh Hai Mohabbatein: Nidhi comes out of the jail with the help of Mani for making Ishita-Raman life hell
The upcoming episode of love drama Yeh Hai Mohabbatein will witness alot of twist and turns.
The main leads of the show Raman is played by Karan Patel and Ishita is played by Divyanka Tripathi.
Nidhi forces Mani, blackmails him to take her out of jail.
Mani has no option left rather than to help Nidhi from coming out of jail.
Nidhi gets happy post coming out of jail
Finally Mani takes Nidhi out of jail and she gets really happy post coming out of jail.
Now Nidhi will take revenge from Raman and Ishita, she will make their life hell again.
It will be interesting to see that Raman-Ishita will be able to stop Nidhi from making their life hell or not.
Stay tuned for the upcoming twist.