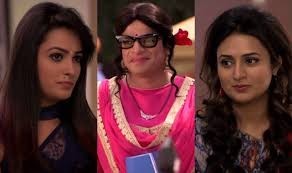 Yeh Hai Mohabbatein: Ishita (Divyanka Tripathi) happy as Gulabo takes care of pregnant Shagun (Anita Hassandani)
Love track of Yeh Hai Mohabbatein on Star Plus will witness that Gulabo will get worried as Shagun becomes unwell.
Shagun is alone at home and she talks on phone with someone but when she keeps the phone then she feels uneasy.
Just then Gulabo comes there and gets tensed seeing Shagun getting restless.
Gulabo asks Shagun to rest and in the mean time she will bring the doctor home.
Gulabo takes Shagun to doctor's clinic
But Shagun refuses and asks Gulabo to take her to doctor's clinic as she is feeling breathless and doctor told her that she will have to be very careful regarding her pregnancy.
Gulabo takes her to the clinice and takes care of her.
Ishita feels happy to know that Gulabo took care of Shagun when she was alone.
Stay tuned for the upcoming twist in Yeh Hai Mohabbatein Gulabo track.