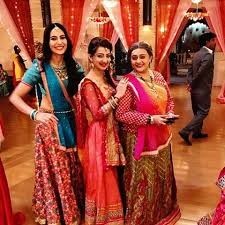 Saath Nibhana Saathiya: Urmila-Paridhi turns laila for saving Sita from forceful marriage
The upcoming episode of family drama Saath Nibhana Saathiya that is showcased on Star Plus will unfold alot of twist and turns.
Urmila, Paridhi, Sona, Jaggi and Gopi all are on secret mission of saving Sita from getting married forcefully.
So then they change their avatar and then they enter Bhawani's house for taking Sita with them.
Bhawani catches members of Modi family red handed
Urmila and Paridhi takes laila avatar and then they dances in Bhawani's hosue so that Bhawani is not able to recognize them.
Later Bhawani will catch them and lock them inside room so that they are not able to stop the marriage.
It will be interesting to see that what Gopi will do now.
Stay tuned for the upcoming twist.