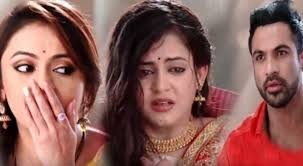 Saath Nibhana Saathiya: Gopi (Devoleena Bhattacharjee)-Jaggi (Mohammad Nazim) makes master plan for stopping Sita's marriage
The upcoming episode of family daily soap Saath Nibhana Saathiya on Star Plus leading with Sita's marriage plot with a lot of twist and turns.
Gopi and Jaggi come to know that Bhawani is getting Sita married against her will.
They decide to stop Sita's marriage by taking Sita away from Bhawani's clutches.
Bhawani catches Gopi-Jaggi red handed making plan to save Sita
Gopi and Jaggi makes a plan to enter in Bhawani's house and take Sita away with them.
Kaka also helps Gopi and Jaggi as he also does not want Bhawani to get Sita married forcefully.
Gopi and Jaggi enters Bhawani's house disguising themselves but then Bhawani catches them red handed.
She locks them inside a room and says that she will not let them stop Sita's marriage.
Once again Gopi and Jaggi caught intotrouble trying to do justice with others this time for innocent Sita.
Stay tuned on Serial xPRESS for the upcoming twist in Gopi and Jaggi's life in Saath Nibhana Saathiya.