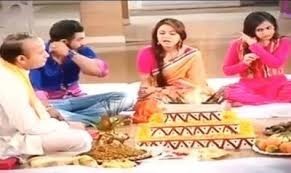 Saath Nibhana Saathiya: Bhawani's being good mother drama befools Jaggi (Mohammad Nazim)-Gopi (Devoleena Bhattacharjee)
The upcoming episode of family drama Saath Nibhana Saathiya on Star Plus will witness alot of twist and turns.
Gopi and Jaggi does not wants Sita to back with Bhawani as they think that she is not a good mother.
They think that she tortures Sita so they try to keep Sita away from Bhawani.
But Bhawani cleverly kidnaps Sita, Gopi and Jaggi gets shocked.
Gopi leaves Sita with Bhawani
They searches for Sita and finally reaches to meet Bhawani to bring Sita back.
But Bhawani does drama infront of them that she is a very good mother and she take care of Sita alot.
Jaggi and Gopi gets trapped in her drama and leaves Sita with Bhawani.
Stay tuned for the upcoming twist.