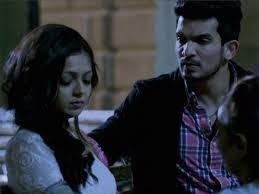 Pardes Mein Hai Mera Dil: Veer's plan to threaten Raghav (Arjun Bijlani) and Naina (Drashti Dhami) brings them closer
The upcoming episode of Star Plus popular daily soap Pardes Mein Hai Mera Dil will showcase some more drama.
Raghav and Naina had left Mehra house and are living in outhouse and struggling to start up their new life.
Raghav is struggling to get a new job to make his living but Veer doesn't distract his evil eye from Raghav.
Veer doesn't let Raghav get another job and is after him to trouble Raghav and Naina, Veer doesn't stop here.
Veer now plans to throw Raghav and Naina out of Mehra house premises that is out of outhouse.
Veer's evil attack plan for Raghav and Naina
Veer hires a goon to attack Raghav and Naina, to threaten them to leave outhouse but Raghav fights with him saving Naina.
Amid Veer's evilness Raghav and Naina comes closer to each other.
Stay tuned for more exciting updates of the upcoming episodes.