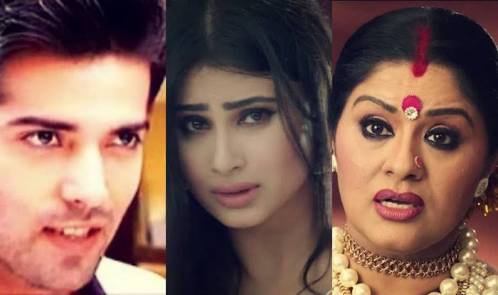 Naagin 2: Yamini (Sudha Chandran) returns bringing shock for Shivangi and Rudra (Kinshuk Mahajan)
The upcoming episode of Colors high on trp show Naagin 2 will show major drama where Shivangi (Mouni Roy) plans to kill Yamini (Sudha Chandran).
Shivangi and Rudra brings Yamini to temple befooling her for Naagmani, Yamini easily gets into the trap.
Shivangi and Rudra attacks over Yamini, Shivangi shows her wrath over Yamini and attempts to kill her.
There Rocky and all others are tensed finding Yamini missing and tries to find her but of no use.
Shivangi shocked finding Yamini alive
Police comes to Rocky with bad news that Yamini is dead and her body has been found, hearing which Rocky gets shocked.
Rocky and others were crying, when Yamini returns in hurt state and shows that she is still alive Shivangi is shocked seeing this.
Uttara a new character also enters who has saved Yamini from falling in the valley.
Stay tuned for more exciting updates of the upcoming episodes.