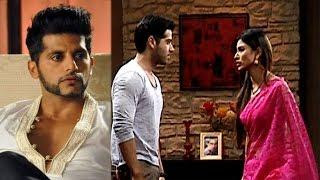 Naagin 2: Rudra's (Kinshuk Mahajan) love for Shivangi turns dangerous for Rocky (Karanvir Bohra)
The upcoming episode of Color high on trp show Naagin 2 will now take major turn.
Shivangi and Rudra are together for their revenge intentions while Shivangi loves Rocky.
Rudra soon develops feelings towards Shivangi and wants to get Shivangi away from Rocky.
Shivangi and Rocky's love and romance irks Rudra, Rudra thus makes Shivangi recall her real intentions.
Rudra's feeling's of love for Shivangi
Rudra asks Shivangi to focus on her revenge plan against Raheja family and not focus on her love for Rocky.
Shivangi and Rocky's togetherness makes Rudra irked and jealous, Rudra will now turn revengeful against Rocky to get Shivangi.
Let's wait and watch for more drama amid Rudra, Shivangi and Rocky.
Stay tuned for more exciting updates of the upcoming episodes.