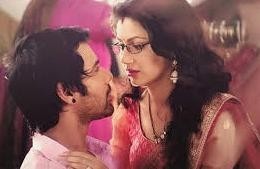 Kumkum Bhagya: Abhi (Shabbir Ahluwalia)-Pragya's (Sriti Jha) romantic dance in batchelor party
Zee tv's love drama Kumkum Bhagya will witness romantic sequence amid Abhi and Pragya that will make Tanu jealous.
Tanu arranges batchelor party for her and Abhi before marriage.
Everyone gets ready for the batchelor party, Tanu and Aliya are really happy and they dresses up nicely.
Abhi also gets dressed up very nicely and he looks really handsome.
Aliya-Tanu jealous eyeing Pragya in black hot dress
On the other hand, Pragya gets up ready wearing sexy black dress in which she looks pretty beautiful.
When Abhi sees her, he gets mesmerized with Pragya's look. Later, Abhi dances romantically with Pragya.
Tanu and Aliya gets furious seeing all this and they get jealous from Pragya in own party.
It will be interesting to see that what will Aliya and Pragya do now.
Stay tuned for the upcoming twist coming in love birds Abhi and Pragya's life in Kumkum Bhagya.