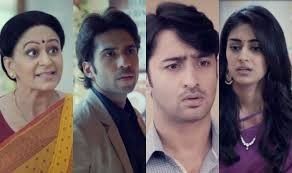 Kuch Rang Pyaar Ke Aise Bhi: Radha gets furious over Sonakshi (Erica Fernandes) for getting Vicky arrested
Most popular love track Kuch Rang Pyaar Ke Aise Bhi on Sony TV will witness a lot of twist and turns in Sonakshi's personal and professional life in upoming tracks.
Sonakshi gets worried for Dev as he gets injured very badly.
She doubts Vicky's hand behind all this and calls police to get him arrested for getting Dev beaten by goons.
Everyone gets shocked as police arrests Vicky for goon attack on Dev.
Ishwari gets angry on Sonakshi for sending Vicky jail in doubt of his involvement for beating her own brother.
Radha attempts to take Vicky out from jail
Radha also gets angry and accuses Sonakshi for getting Vicky arrested by cops.
Now, Radha will try to take Vicky out from jail with the help of Ishwari.
This event of arrest has opened an old rift between Ishwari and Sonakshi.
Keep discovering struggle of Sonakshi to find her love back in Dev family in KRPKAB on Serial xPRESS.