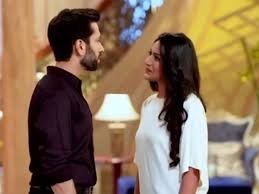 Ishqbaaz: Shivaye (Nakuul Mehta) vows to prove Anika(Surbhi Chandna) innocent in video leaked matter
The upcoming episode of love drama Ishqbaaz on Star Plus will witness alot of twist and turns.
The main lead of the show Shivaye is played by Nakuul Mehta and Anika is played by Surbhi CHandna.
Tej gets to know that ANika has leaked Rudra-Soumya's marriage video.
Shivaye try to find out real culprit behind leaking video
But Shivaye knows that ANika has not done anything so he asks Tej to relax as he will find out the real culprit soon.
Later Shivaye and Anika doubts that it maybe Tia who has done all this using Anika's phone.
It will be interesting to see that what will Shivaye and ANika do now.
Stay tuned for the upcoming twist.