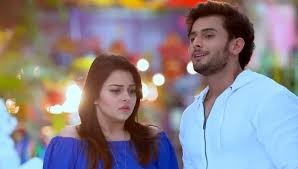 Ishqbaaz: Soumya(Neha Laxmi) gets shattered hearing Rudra's (Leenesh Mattoo) harsh words
The upcoming episode of love drama Ishqbaaz on Star Plus will witness Soumya's suicide drama.
Rudra gets tensed as well as shocked when he comes to know about Swetlana and Tej's engagement.
Just then Soumya comes seeing him tensed and ask him the reason behind being tensed.
So then he gets angry and lashes out at Soumya, he blames Soumya for everything that is happening in the house.
Soumya takes drastic decision of committing suicide
Soumya gets shocked, Rudra accuses her for every problem that is going on in the house.
Soumya gets shattered as well as hurt hearing Rudra's harsh words.
Finally she decides to commit suicide.
It will be interesting to see if Rudra is able to save Soumya or not.
Stay tuned for the upcoming twist.