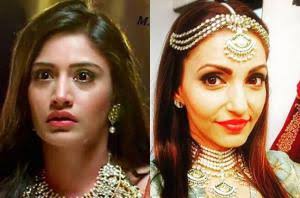 Ishqbaaz: Tia (Navina Bole) unveils T and D mystery before friend Anika (Surbhi Chandna)
The upcoming episode of Star Plus popular daily soap Ishqbaaz will show major drama in the Oberoi mansion.
Anika gets into Tia and Swetlana's influence and performs hot sexy dance in Oberoi mansion.
Shivaay gers angry seeing Anika's this avatar and tantrums, warns Anika to not repeat it and threatens her.
While Shivaay is also worried with Anika's increasing closeness with Tia who isn't good for Anika.
Shivaay and Anika's threatening romance
Shivaay tries to protect Anika from Tia but of no use as Anika has turned friends with Tia.
Anika sees Tia crying in alone, and questions her about T&D locket in her hand, Tia gets emotional.
Tia gets emotional and reveals about Dushyant aka Robin being her love who died because of someone.
Stay tuned for more exciting updates of the upcoming episodes.