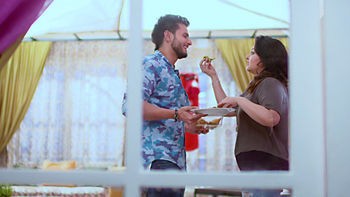 Ishqbaaz: Rudra (Leenesh Mattoo) feels guilty as Soumya(Neha Laxmi) leaves Oberoi mansion
Most popular love drama Ishqbaaz on Star Plus will witness a lot of twist and turns in the show.
Everyone gets worried for Soumya when she goes missing from Oberoi mansion.
Later they get shocked to know that Soumya has left Oberoi mansion because Rudra accused her for every problem in the house.
Rudra bring Soumya back to Oberoi mansion
Shivaye scolds Rudra for accusing Soumya and behaving rudely with her.
Rudra feels guilty; he realizes his mistake and tries to find Soumya.
Rudra somehow manages to find Soumya, he apologize her for his mistake and convinces her to return Oberoi mansion.
Everyone gets really happy to see Soumya back in Oberoi mansion.
Stay tuned for the upcoming twist.