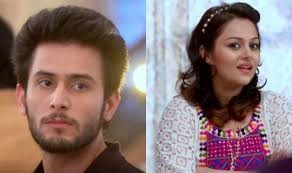 Ishqbaaz: Soumya (Neha Laxmi)shocked as Rudra (Leenesh Mattoo) blames her for every problem in Oberoi mansion
The upcoming episode of love drama Ishqbaaz on Star Plus will witness major fight amid Rudra and Soumya.
Tej and Swetlana's engagement created rift amid Rudra and Soumya.
Rudra gets shocked as well as tensed when he gets to know that Tej is getting engaged with Swetlana.
Just then Soumya comes there and asks him the reason of being so tensed.
Soumya gets hurts hearing Rudra's accusations
So then Rudra bursts out in anger on Soumya and starts accusing her for everything that is going on in Oberoi mansion.
Soumya gets shocked as well as hurt hearing his accusations.
It will be interesting to see that what will Soumya do now.
Stay tuned for the upcoming twist.