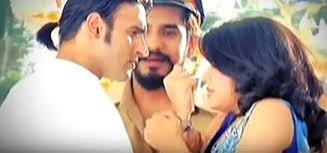 Ek Tha Raja Ek Thi Rani: Naina (Eisha Singh) shocked as Raja(Sartaj Gill) get teary eye as as Rani's memories get burnt
The upcoming episode of Ek Tha Raja Ek Thi Rani that is telecasted on channel Zee tv will witness alot of twist and turns.
The main leads of the show Raja is played by Sartaj Gill and Naina is played by Eisha Singh.
Raja misses Rani alot seeing her pics but then somehow the pics of Rani gets burnt.
Raja shocked as Rani's memories catch fire
Raja gets shocked he try to blow the fire off just then Naina comes.
Raja gets angry and asks Naina to stay out of the room.
Raja throws water and blows the fire off but Rani's memory get burnt so tears comes in his eyes.
Stay tuned for the upcoming twist.