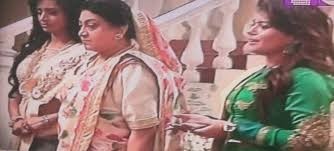 Yeh Rishta Kya Kehlata Hai: Swarna scolds Kush-Love for making Toran fall in Naira-Kartik's engagement
The upcoming episode of Yeh Rishta Kya Kehlata Hai will witness alot of twist and turns.
All the members of the family gets busy in the prepaprations of Naira and Kartik's engagement.
Singhaniya family get busy in making the preparations for welcoming Goenka's nicely.
On the other hand Kartik is very excited for his engagement and he leaves Goenka house with all the members of the family for reaching Singhaniya house.
Naira sends bangles pic to Kartik
When Kartik was about to reach then Naira sends her bangles pic to Kartik and he likes it.
Singhaiya's welcome Goenka's but when they were entering Goenka house just then toran falls on them and everyone gets shocked.
Actually toran falls due to Love-Kush so then Swarna scolds them for making toran fall.
Stay tuned for the upcoming twist