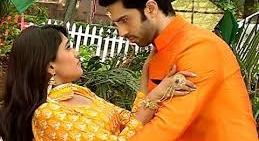 Ye Rishta Kya Kehlata Hai: Naira (Shivangi Joshi) scared as Aditya's evil eyes follow her everywhere
In the upcoming episode there will be lots of twists and turns in Naira's life.
Aditya has gone mad after Naira as he finds her very attractive and hence is in a chance to touch her once.
Aditya wantsto come close to Naira as he is having evil intentions for her, he even crossed his limits taking out her dupatta in public which scared Naira to hell.
Naira is somewhat aware of Aditya's cheapness as earlier also she noticed his misbehavior with Kirti so she got a glimpse of his nature
Naira smells something fishy with Aditya
Naira doubts Aditya's character but finds it hard to confess Kartik that she is insecure of Aditya as Kartik has immense respect for Aditya thinking him to be a loyal person.
Stay tuned for further details.