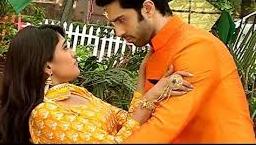 Yeh Rishta Kya Kehlata Hai: Gayu (Kanchi Singh) gets doubtful of Aditya's intentions towards Naira
Star Plus longest running show Yeh Rishta Kya Kehlata Hai will show many twists and turns in Naira's life.
As wedding preparations are in its way, Naira is practicing with Gayu for sangeet ceremony and while dancing she accidentally bumps into Aditya and gets shocked to see him at there.
Aditya informs that he came to learn some dance steps as no one in Kartik's house is really interested in dance so he thought to practice it here with Naira.
Gayu gets doubtful of Aditya's intentions
Naira unwillingly accept to dancewith Aditya but get uncomfortable when Aditya touch her waist thus trying to get intimate.
Gayu notice Naira getting uncomfortable and doubt Aditya's intention.
Naira try to get away but Aditya push her thus making her feel uncomfortable.
Stat tuned for more details.