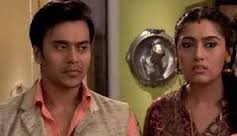 Yeh Hai Mohabbatein: Param (Anurag Sharma) returns in Simmi's life creating trouble for Gaurav (Deepak Wadhwa)
The upcoming episode of Yeh Hai Mohabbatein will show high voltage drama where Simmi and Gaurav are coming closer.
Gaurav had proposed Simmi for marriage which she had refused but Ruhi supports Simmi's love.
Ruhi is also making efforts to make Ananya realize that Gaurav is nice and Simmi must marry Gaurav for their love.
Ananya had also almost agreed for it, but before happiness could return back in Simmi's life new trouble enters.
Param returns with trouble in Simmi's life
Param returns back in Simmi's life bringing new twist and trouble for Simmi and Bhalla family.
Simmi asks Param to stay away from her life although he is Ananya's father but not het husband.
Stay tuned for more exciting updates of the upcoming episodes.