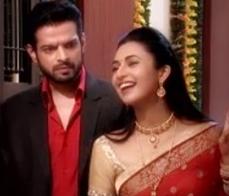 Yeh Hai Mohbbatein: Sohail(Gaurav Wadhwa) kidnaps Ruhi(Aditi Bhatia), Raman(Karan Patel) Ishita(Divyanka Tripathi) unaware
Star Plus popular show Yeh Hai Mohbbatein has been grabbing eyeballs with its new and interesting twists in the show.
Raman Ishita are happily celebrating lohri with their family unaware that a storm is about to enter in their life.
Ruhi invites Sohail in lohri as she wants to spend some quality time with him and also want her family to know him more.
Raman gets irked with Sohail's presence but Ishita handle his anger by ssking him not to loose his cool amid all as it will only lead to their humiliation in public.
Sohail gets Ruhi kidnapped
Sohail is hiding his devil smile behind his fake concern and us happy to see Ruhi getting so mad behind him.
Sohail has come to Ruhi's place with a motive to kidnap her, he calls her outside and gets her kidnapped from the venue and Raman Ishita remain unaware.
Sohail will now throw his mastercard against Raman Ishita by molesting their daughter whom Ruhi finds very adorable is actually a villain.
Stay tuned for more details.