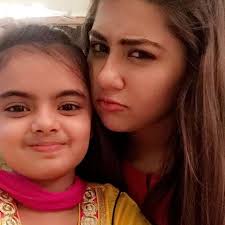 Yeh Hai Mohabbatein: Pihu (Ruhanika Dhawan) accuses Ruhi (Aditi Bhatia) and Sohail of murder
The upcoming episode of Yeh Hai Mohabbatein will show high voltage family drama in Bhalla house.
Raman and Ishita are already tensed over Ruhi's blackmailing and MMS case while another trouble enters their life.
Pihu the little and loved daughter of Bhalla family seems depressed and scared thus catching Raman and Ishita's attention.
Ishita tries to talk to Pihu but of no use, Ishita and Raman decides to take psychiatric help for Pihu.
Raman and Ishita's new trouble
Raman and Ishita gets to know that Pihu has witnessed a murder and tries to calm her down but this isn't the end.
Pihu accuses Ruhi for the murder, Pihu has seen Ruhi and Sohail murdering the blackmailer thus opening their truth.
Let's wait and watch how will Raman and Ishita handle this absconding situation amid both the daughters Ruhi and Pihu.
Stay tuned for more exciting updates of the upcoming episodes.