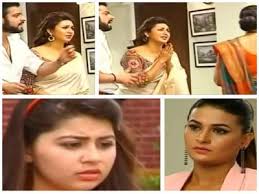 Yeh Hai Mohabbatein: Ruhi's (Aditi Bhatia) pain again separated Raman and Ishita (Divyanka Tripathi)
The upcoming episode of Star Plus popular love drama Yeh Hai Mohabbatein will show some more troubles.
Raman and Ishita are already in trouble seeing their daughter Ruhi inside the jail, Ruhi being a juvenile has been sent to remand home.
Ruhi is taking all pains in remand home, Ruhi had confessed her crime although she hadn't done anything.
Ruhi is doing it for her parents Raman and Ishita, as Soha had warned Ruhi to kill Raman and Ishita if she reveals any truth.
Ruhi takes all pain for Raman-Ishita
Ruhi is stuck amid Sohail's trap but couldn't tell this to Raman-Ishita, Raman is tensed for his daughter Ruhi and bursts out at Ishita.
Raman and Ishita tries to get Ruhi released but of no use, Nidhi thus again comes to bring separation in Raman-Ishita's life for daughter Ruhi.
Stay tuned for more exciting updates of the upcoming episodes.