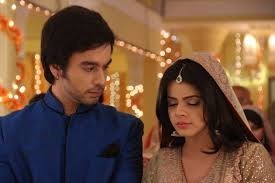 Thapki Pyaar Ki: Vasundhara convinces Bihaan-Thapki for doing husband-wife drama before Badi Daadi
The upcoming episode of Thapki Pyaar Ki will witness alot of twist and turns.
Badi daadi comes to Pandey niwas for meeting all the members of the family.
She is unaware of the fact that Bihaan and Thapki have got separated so she give them both blessings of staying happily married.
Later Bihaan tells everything to Sonu that now they have got separated so Sonu asks Bihaan not to tell anything to Daadi as she can get heart attack.
Sonu shocked to know about Bihaan-Thapki separation
So Vasundhara convinces Bihaan and Thapki to do husband and wife drama before Badi daadi so that she does not get to know anything.
It will be interesting to see that will this drama bring Bihaan and Thapki close or not.
Stay tuned for the upcoming twist.