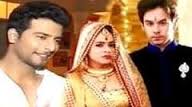 Thapki Pyar Ki: Thapki (Jigyasa Singh) after Kabir (Sehban Azim) finding his truth, Bihaan-Thapki's emotional moments
The upcoming episode of Thapki Pyar Ki will show high voltage drama where Kabir and Thapki are against each other.
Kabir and Bihaan has come face to face for cricket match against each other.
Kabir and Bihaan's this cricket match has taken new turn into rivalry and revenge against each other.
Kabir is planning to take revenge from Bihaan, Kabir plans an attack over Bihaan which Thapki couldn't resist it.
Kabir and Thapki are snapping against each other, Thapki is angry seeing this and thus plans to find Kabir's intentions.
Thapki and Kabir's face off
Thapki thus attaches tracking device to Kabir's jacket to trap him and find his hidden intentions.
Let's wait and watch will Thapki be able to find Kabir's truth.
Stay tuned for more exciting updates of the upcoming episodes.