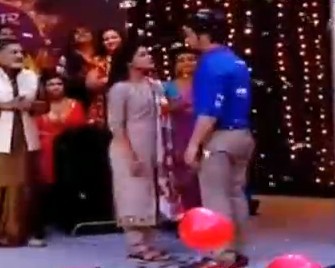 Kabir irked as Bihaan (Manish Goplani) confesses love for Thapki (Jigyasa Singh) post winning 5 crore rupees contest in Thapki Pyaar Ki
The viewers will love to watch the upcoming track of Thapki Pyaar Ki on Colors as Thapki and Bihaan will finally get united.
Role of Thapki is being played by Jigyasa Singh and Bihaan is being played by Manish Goplani.
Thapki gives the right answer and saves Bihaan's life, she takes him out from the dangerous gas box.
Thapki happy as Bihaan confesses his love for Thapki
Then Bihaan plays the contest and finally wins the game and prize money 5 crore rupees.
Kabir gets shocked as well as angry because he does not wanted Bihaan to win the game.
But still Bihaan wins the game and then he propses Thapki, she get happy and accepts the proposal.
Now Bihaan will take back his Pandey Niwas from Kabir.
Stay tuned for the upcoming twist.