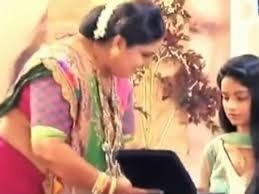 Saath Nibhana Saathiya: Vidya tensed eyeing Gaura digging grave for Chanda
Most entertaining family drama Saath Nibhana Saathiya on Star Plus will unfold alot of twist and turns.
The main leads of the show Gopi is played by Devoleena Bhattacharjee and Jaggi is played by Mohammad Nazim.
Gaura enters Modi house and she pretends as if she is very worried for Urvashi.
Gaura asks about Urvashi from Gopi and she tells her that doctor has said that she will get fine soon.
Gaura asks Gopi about Urvashi health
Gaura pretend to pray for Uvrashi saying that she will get fine soon.
Just then Urvashi regains consciousness and grabs Gaura, she gets tensed.
On the other hand Gaura digs grave for Chanda and she takes Vidya's help for digging the grave.
Stay tuned for the upcoming twist.