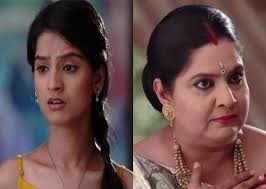 Saath Nibhana Saathiya: Meera(Tanya Sharma)-Vidya(Sonam Lamba) unaware of Gaura's evil plan
The upcoming episode of Saath Nibhana Saathiya will witness alot of twist and turns.
Meera and Vidya gets busy in the preparation of the naamkaran function in their house.
Meera and Vidya makes food in the ktichen for everyone just then Gaura enters the kitchen.
Gaura makes evil plan against Meera and Vidya but they are unaware of Gaura's evil intentions.
Gaura makes Meera-Vidya mix sleeping pills in Radha's food
Gaura asks Meera and Vidya to mix sleeping pills in Chanda's food so that she does not creates drama in naamkaran function.
Meera and Vidya refuses to do so but then Gaura convinces them for doing so.
Then Gaura makes Vidya busy in making chaanch and she puts a letter for Radha inside chapati so that she does not eats the food.
Gaura informs her through the letter that Meera and Vidya has mixed sleeping pills in her food.
So that she create drama in naamkarana and the blame of everything goes on Meera and Vidya.
Stay tuned for the upcoming twist.