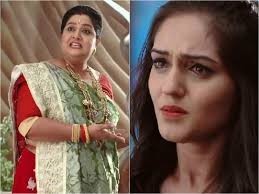 Saath Nibhana Saathiya: Chanda turns Gaura's puppet for ruining Meera(Tanya Sharma)-Dharam's life hell
The upocming episode of Saath Nibhana Saathiya will witness alot of twist and turns.
Gaura has returned to take revenge from all the members of the Modi family.
Gaura wants to make Meera's life hell but she does wants anyone to know about he evil intention and plan.
So she uses Chanda to make Meera-Dharam's life hell.
Gaura happy seeing Meera in pain
Gaura instructs Chanda and she does everything as Gaura tells her to do.
Gaura has made Chanda and Dharam married, then she throws Meera out of Dharam's room.
Gaura is enjoying seeing Meera in pain and she is enjoying making her life hell.
It will be interesting to see that when will Meera come to know about Gaura's evil intentions.
Stay tuned for the upcoming twist.