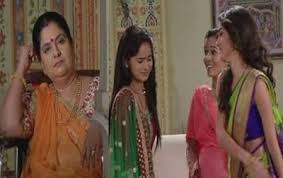 Saath Nibhana Sathiya: Gaura traps Meera (Tanya Sharma ) and Vidya (Sonam Lamba) supports Chanda
The upcoming episode of Star Plus show Saath Nibhana Sathiya will show high voltage action drama.
Gaura is playing her cheap tricks over Meera and Vidya, Meera and Vidya are unaware about Gaura's intentions.
Chanda has given birth to Meera's children, Meera is super happy with the child birth.
Vidya and Meera are preparing for naamkaran ceremony, while Gaura is ready to play her master card.
Gaura and Chanda's trick against Meera
Gaura asks Meera and Vidya to add sleeping pills in Chanda's food to make her sleep Meera and Vidya are stunned.
Gaura also puts letter in the chapatti to warn Chanda and is playing this bitter game to trap Chanda.
Stay tuned for more exciting updates of the upcoming episodes.