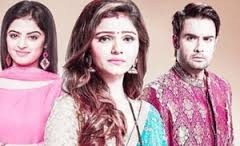 Preeto (Kamya Punjabi) and Surbhi's (Roshni Sahota) join venture endanger Soumya (Rubina Dilaik) and Harman's (Vivian Dsena) love in Shakti Astitva Ke Ehsaas Ki
In the upcoming episode there will be lots of high voltage dramatic situations seen amid Harman and Surbhi in the daily soap.
Harman and Soumya are already been separated by Preeto's act of making Harman marry to Surbhi.
Now, Harman is very much been distributed on side being Soumya and on the other side being Surbhi.
Surbhi is smarter than Soumya and this is how Surbhi tries to take advantage of Soumya's innocence.
Harman gives preference to Surbhi
In the upcoming episode there will be lots of tragic situations seen amid Harman Soumya in the ongoing serial.
Harman is getting more love from Surbhi and this is the way in which Harman is getting attracted towards Surbhi than Soumya.
It would be very interesting to watch as to how would Soumya get back Harman?
Stay tuned for further details and developments in story line.