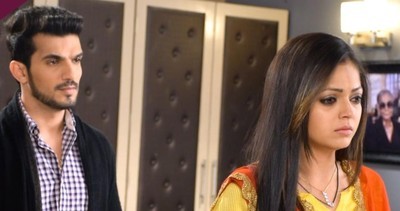 Naina (Drashti Dhami) hurt eyeing Raghav (Arjun Bijlani) take Sanjana's (Aditi Sharma) side amid Veer (Laksh Lalwani) and dadi in Pardes Mein Hai Mera Dil
In the upcoming episode there will be lots of high voltage dramatic situations seen amid Raghav and Naina in the daily soap.
Raghav when witnesses that Naina had sent a message to Veer inviting Veer in secret, Raghav looses his temper.
Now, when we frame it up in other words we can say that Raghav has lost trust upon Naina and started believing in Sanjana.
Raghav has now started to do as Sanjana has tells Raghav to do as Naina's hold upon Raghav has been started diminishing.
Naina's innocence fight against Raghav
In the upcoming episode there will be lots of tragic situations seen amid Naina and Raghav in the ongoing serial.
Naina cannot just let dadi and Raghav move ahead with negative thoughts about Naina.
It would be very interesting to watch as to how would Naina prove self innocent amid dadi and Raghav?
Stay tuned for further details and developments in story line.