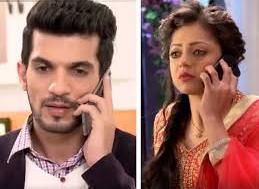 Pardes Me Hai Mera Dil: Veer attempts to kill Naina (Drashti Dhami), Raghav (Arjun Bijlani) helpless
In the upcoming episode viewers will see evil Veer attempting to kill Naina.
Naina accused Veer in her molestation charge but failed to prove herself as Veer double trapped her.
Now Veer is feeling insecure as he knows Naina is not going to shut her mouth so he plans to kill her.
Naina accidently gets hit by a bullet
Naina, Raghav, Sanjana and Veer are at a place where suddenly a goon attacks by firing bullets.
Naina and Raghav luckily escape earlier but Sanjana got trapped there so to save her Raghav and Naina rush towards her to save Sanjana but in the midst of all this Naina gets shot however this was all a part of Veer's plan to kill Naina.
Stay tuned for more details.