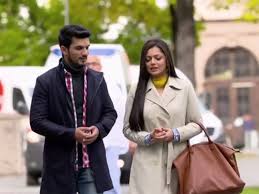 Pardes Mein Hai Mera Dil: Raghav (Arjun Bijlani) and Naina's (Drashti Dhami) friendship takes new twist
The upcoming episode of Pardes Mein Hai Mera Dil will show that Raghav and Naina's friendship started on a happy note.
Raghav has helped Naina, Raghav was Naina's first friend in Innsbruck while situation changes and they ends up marrying each other.
Naina was upset with Raghav this act of marrying her and differences has entered their friendship.
While Raghav's goodness has rebuilt this friendship and slowly wins Naina's heart.
Raghav and Naina's beautiful relationship
Naina has started to feel special attraction towards Raghav's goodness and innocence.
Naina admires Raghav's genuine attitude and determination towards his family, although is sometimes insecure over Sanjana.
Raghav and Naina's this roller coaster friendship, enmity is now taking lovely and romantic twist towards love.
Let's wait and watch how will Raghav and Naina's love blossoms amid all difficulties in Innsbruck.