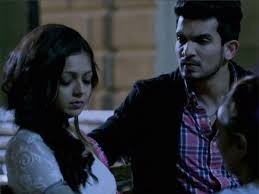 Pardes Mein Hai Mera Dil: Raghav(Arjun Bijlani)-Naina (Drashti Dhami) sad seeing Daadi hurt by the betrayal of the family members
The upcoming episode of Pardes Mein Hain Mera Dil that is showcased on Star Plus will witness alot of twist and turns.
Daadi gets shattered when she comes to about Sanjana's fake pregnancy.
She gets very hurt to know that the ones whom she thought were their own has only hurted her and betrayed her.
Raghav-Naina geuninely cares for Daadi
Daadi even gets shocked seeing the way Veer behaved with her, she is all shattered.
Raghav and Naina who genuinely cares for Daadi they get upset seeing her in pain.
They go to her and console her as Daadi has got shattered.
Stay tuned for the upcoming twist.