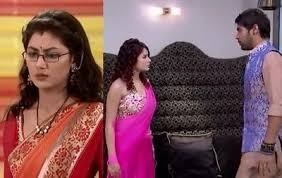 Kumkum Bhagya: Tanu's suicide drama gets successful in getting Abhi's (Shabbir Ahluwalia) sympathy
The upcoming episode of Kumkum Bhagya will witness alot of twist and turns.
Purab and Pragya's love drama works over Abhi and he gets jealous seeing them together.
Abhi decides that he will break his marriage with Tanu because he loves Pragya.
But when Tanu comes to know about this then she does her suicide drama to get Abhi's sympathy.
Abhi changes her decision to cancel his marriage with Tanu
Tanu's suicide drama works over Abhi and he changes his decision to cancel the marriage because he feels sympathetic towards Tanu.
Pragya gets irked seeing all this because she knew that Tanu has done this suicide drama with motive of getting Abhi's sympathy so that he does not cancels the marriage.
It will be interesting to see that what will Pragya do now.
Stay tuned for the upcoming twist.