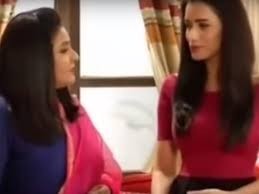 Kasam Tere Pyaar Ki: Rano throws Malika out from house post Rishi (Sharad Malhotra) exposes her before everyone
The upcoming episode of Kasam Tere Pyaar Ki will witness alot of twist and turns.
Rishi-Raj made master plan of exposing Malika on the day of wedding.
Malika gets really happy and gets ready in bride attire.
Rishi gets ready with his plan to expose Malika before everyone.
Tanuja happy as Malika gets exposed before Rano
Then he finally exposes Malika's evilness before everyone and Malika gets shocked.
Rano finally get to know about evil Malika and she accepts the fact that she is not a nice girl.
Rano slaps Malika and throws her out of the house for breaking her trust.
It will be interesting to see that whether Rano will accepts Tanuja now or not.
Stay tuned for the upcoming twist.