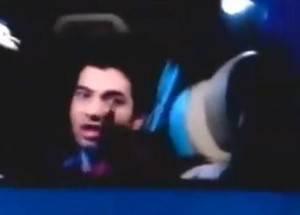 Kasam Tere Pyar Ki: Rishi (Sharad Malhotra) gets shot by goons while saving Tanuja (Kratika Senger)
Colors popular and most applauded show Kasam Tere Pyar Ki will witness a tragic incident happening in Rishi and Tanuja's life.
Rishi has thrown Tanuja out of his life post Rano' critical condition for which Tanuja was blamed for.
However, her problem doesn't end here as soon she gets kidnapped ny some goons.
Tanuja shouts for help and luckily Rishi passes by that road and sees Tanuja shouting for help.
Rishi though save her from goons at last but he himself gets shot.
Tanuja in dilemma leaves Rishi midway
Tanuja gets frightened and panics looking at Rishi, Tanuja is helpless as she is bound to accept her fate else she will loose Rishi, hence she leaves there as Rishi gets in trouble whenever they come together.
Stay tuned to know more and get further updates.