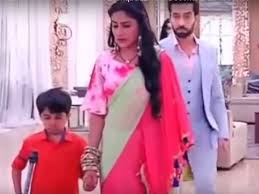 Ishqbaaz: Sahil sorts differences uniting Shivaay (Nakuul Mehta) and Anika (Surbhi Chandna)
The upcoming episode of Star Plus popular show Ishqbaaz is keeping its audiences hooked to television screen.
Ishqbaaz is showcasing out of the box love story of Shivaay and Anika, where their love started with hatred.
Anika is hurt with Shivaay's cold attitude over Tia's accusations of theft over Sahil which Anika couldn't bear.
Anika can bear anything but her brother Sahil is his life, Anika and Shivaay's differences re-begins.
Sahil's cupid avatar for Shivaay and Anika
While Sahil comes in as Shivaay and Anika's love savior and tells Anika that Shivaay has some problem that why he did it.
Sahil doesn't tell truth of Omkara and Mrs Kapoor's blackmailing but tells Anika that Shivaay is right in his stand.
Stay tuned for more exciting updates of the upcoming episodes.