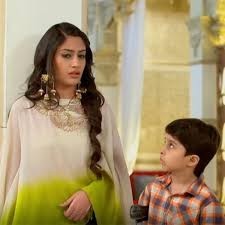 Ishqbaaz: Anika (Surbhi Chandna) shocked as Tia (Navina Bole) blames Sahil for stealing diamond necklace
The upcoming episode of love drama Ishqbaaz that is showcased on Star Plus will witness alot of twist and turns.
The main leads of the show Anika is potrayed by Surbhi Chandna and Shivaye is potrayed by Nakuul Mehta.
Tia executes her evil plan of framing Sahil in stealing her diamond necklace.
She thinks by doing this she will throw Anika as well as Sahil out from Oberoi mansion.
Tia hides her necklace in Sahil's stick and then she blames him for stealing her necklace.
Pinky wants to get Sahil arrested for stealing necklace
Anika gets shocked and try to prove him innocent, Tia checks the necklace in Sahil's pocket but she does not finds it.
Then Swetlana pushes Sahil, he falls and necklace comes out from his stick.
Everyone gets shocked and believes that he has stolen necklace.
Pinky asks Shivaye to call police but before police comes Tia forgives him and asks him to leave Oberoi mansion if he does not wants to go jail.
So now Sahil and Anika decides to leave Oberoi mansion.
It will be interesting to see that what will Shivaye do now.