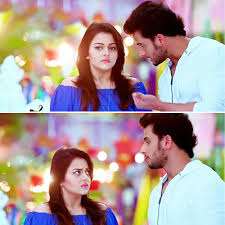 Ishqbaaz: Tia (Navina Bole) gets to know about Rudra (Leenesh Matto) and Saumya's marriage, blackmails them
The upcoming episode of Ishqbaaz will show high voltage drama where Tia is using her all cheap tricks to trap Shivaay.
Tia has also takes her pregnancy to get Shivaay and also crossed all limits to kill him for her revenge motive.
Tia is ready to do anything to take her family revenge from Oberoi's, Tia challenges Anika to save Oberoi's if she can.
Anika is doing everything to protect Shivaay, while Tia now targets Rudra to get catch of Oberoi's weakness.
Tia traps Rudra and Saumya
Tia gets to know about Rudra and Saumya's mistaken marriage and thus takes advantage of this hidden truth.
Tia blackmails Rudra amd Saumya thus using them against Shivaay and Anika in return of the secret hidden truth.
Stay tuned for more exciting updates of the upcoming episodes.