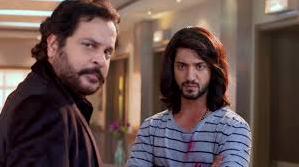 Ishqbaaz: Tej make Omkara (Kunal Jaisingh) arrested in Shwetlana (Rhyna Malhotra) molestation case
In the upcoming episode there will be lots of twist in Oberoi mansion.
Shwetlana trapped Om in her plan leaving no option behind for him.
Tej is worried for Shwetlana as he can't find her anywhere and this creates major rift between Jhanvi and him.
Shwetlana has trapped Om blackmailing him if he wants to save Priyanka's MMS and her parents divorce then he has to marry her or else she can also accuse him in molestation case.
Shwetlana fakes molestation case on Om
There is a havoc created in Oberoi mansion when Shwetlana faked molestation blame on Om thus making Tej believe that both were not present at home at the same time.
Om tried to prove his innocence but Tej was not ready to listen to him and therefore he got him arrested.
Shivay, Anika and Jhanvi are shocked to see Tej getting so harsh on his son and believing evil Shwetlana.
Stay tuned for more details.