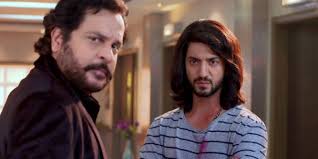 Ishqbaaz: Shivaay (Nakuul Mehta) fails to stop Tej from leaving Oberoi house hurt with Omkara's (Kunal Jaisingh) accusations
The upcoming episode of Ishqbaaz will show high voltage drama where Tej comes to Oberoi mansion with some intentions.
Tej wants Omkara to marry his partners daughter for business merger and expansion, Omkara is irked and shocked hearing this.
Omkara and Tej had always been against each other, as Omkara has never liked Tej's ways of working and doing things.
Tej and Omkara had argument over it, Omkara thus decides to leave Oberoi mansion.
Shivaay and Anika stops Omkara from leaving Oberoi mansion
Shivaay and Anika comes to stop Omkara and asks Omkara to not take impulsive decision.
Omkara accuses Tej for trying to sell him in return of business and money, Tej gets more angry hearing this accusations of his son.
Shivaay tries to calm down situation but of no use, Tej leaves Oberoi mansion and Shivaay, Anika, Rudra all are tensed.
Stay tuned for more exciting updates of the upcoming episodes.