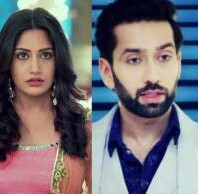 But Shivay fails to reach Om as Shwetlana caught him following her,so she insisted Romi to help her kicK Shivay out of as he is not part of the plan.
Shivay fails to reach Om as Romi creats certain hurdles midway and Shivay has to stop his car near a jungle where he gets a big shock of his life seeing Anika once again in dead condition.
Shivay kiss Anika to save her life
Soon Anika is hit by a storm and Shivay finds her flying high, hanging on tree.
A panicked Shivay try to bring her in sense but nothing works, therefore at last he kiss Anika to gain her conscious.
Stay tuned for more updates.