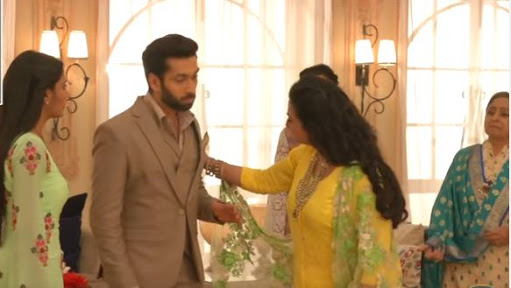 Ishqbaaz: Shivaay (Nakuul Mehta) and Anika's love life amid trouble because of Pinky and Tia (Navina Bole)
The upcoming episode of Star Plus popular daily soap Ishqbaaz is up for major drama in Oberoi mansion.
Shivaay will showcase his love for Anika, brings her back in Oberoi mansion against Pinky which upsets Pinky.
Pinky tries to create emotional drama amid Shivaay for nor listening to her and giving more importance to Anika.
Shivaay choose Anika over Pinky
Shivaay doesn't melt before Pinky and proves his love to Anika, Shivaay asks Pinky to not interfere in his matters.
Shivaay takes Anika inside his room lovingly, Anika is also moved seeing that Shivaay is standing against his family for her.
Pinky smirks seeing this, Tia thus adds fuel to the fire and instigates Pinky against Anika for brainwashing Shivaay.
Stay tuned for more exciting updates of the upcoming episodes