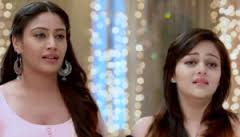 Ishqbaaz: Anika (Surbhi Chandna) and Saumya (Neha Lakshmi Iyer) joins hand against Tia, Swetlana and Romi
The upcoming episode of Ishqbaaz will show high voltage drama where Anika knows Tia's evilness against Shivaay.
Anika finds that Tia has evil intentions against Shivaay and Oberoi family.
Shivaay is in danger as Tia wants to kill him, Anika thus takes stand against Tia.
Saumya also gets to know Romi's truth of having hidden intentions against Oberoi family.
Anika and Saumya's togetherness
Anika and Saumya thus joins hand together to protect Shivaay and Rudra against Kapoor sisters.
Anika and Saumya's love power to take up challenge against evil Tia, Swetlana and Romi.
Stay tuned for more exciting updates of the upcoming episodes.