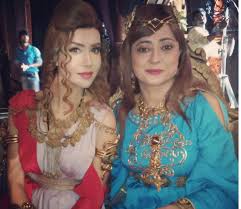 Chandra Nandni: Nandini (Shewta Basu Prasad) and Helena's open competition becoming Chandra's (Rajat Tokas) Maharani
The upcoming episode of historic television series Chandra Nandni will show high voltage action drama.
Chandra and Nandini's life is already facing much trouble because of Roopa's presence in their life.
Chandra and Nandini loves each other but faces problem over Roopa's evil trick, Chandra's Dadi decides to organize a competition.
Chandra's Dadi thus decides to make Helena or Nandini Chandra's Maharani, for this Helena and Nandini has to compete with each other.
Chandra and Nandini's fight competition
Chandra and Dadi comes for the competition and starts their three way competition, where Nandini and Helena competes with each other.
Chandra sits to see Helena and Nandini winning competition to be his Maharani while Dadi supports Nandini over Helena.
Let's see who will win this competition to become Maharani of Magadh empire.
Stay tuned for more exciting updates of the upcoming episodes.