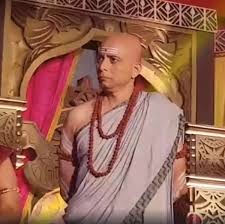 Chandra Nandni: Chanakya finds about Chandra (Rajat Tokas) and Nandini's (Shewta Basu Prasad) Taxila visit
The upcoming episode of Chandra Nandni will show high voltage drama where Nandini passes Taxila exam with flying colors.
Chandra is happy for Nandini's victory and congratulates her while Nandini now had to come infront of Chanakya.
Nandini is afraid as Chanakya can recognize him as being a girl Nandini, Chandra is also tensed over it.
Nandini cleverly passes Chanakya's tough question and geta successful in the exam, Nandini and Chandra are happy.
Chanakya catches Chandra and Nandini's lie
While soon their happiness got vanished when Chanakya comes to meet them and tells that he had recognized Nandini.
Chandra apologize to Chanakya for lie but Chanakya is very angry at Chandra for going against the traditions.
Chanakya asks Chandra to follow his brain and not his heart which can't help him.
Stay tuned for more exciting updates of the upcoming episodes.