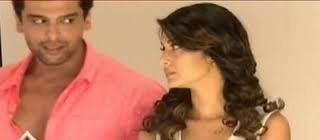 Beyhadh: Maya (Jennifer Winget) reliefed as Arjun(Kushal Tandon) reaches for Jhanvi's rescue
The upcoming episode of Beyhadh will witness alot of twist and turns.
Maya does not wants Jhanvi and Ashwin to get united.
So she throws Ashwin out of the house and asks Jhanvi to stay away from him.
But Jhanvi decides that she will go with Ashwin as now she will not stay away from him.
So then Maya get angry and locks her inside the room, she does not wants Jhanvi to leave her and go.
Maya shocked as Jhanvi try to commit suicide
Later Ashwin informs Maya that Jhanvi has gone to commit suicide, Maya gets shocked.
Maya thinks that she will have to stop Jhanvi from committing suicide so she rushes to save her.
When she reaches there then she sees that Arjun has reaches their and stopped Jhanvi from committing suicide.
Stay tuned for the upcoming twist.